As an innovative therapy for hematological tumors, CAR-T cell therapy has been confirmed in many clinical studies, which can treat tumors accurately, efficiently and quickly! Recently, "CAR-T efficacy can last for 10 years" frequently on the medical news hot search! Professor Carl June, one of the experts in CAR-T therapy, published an important paper on CAR-T therapy in the journal Nature: the introduction of synthetic CAR-T cells can still be detected in the peripheral blood of leukemia patients who have survived without tumors for more than 10 years, and these T cells remain active.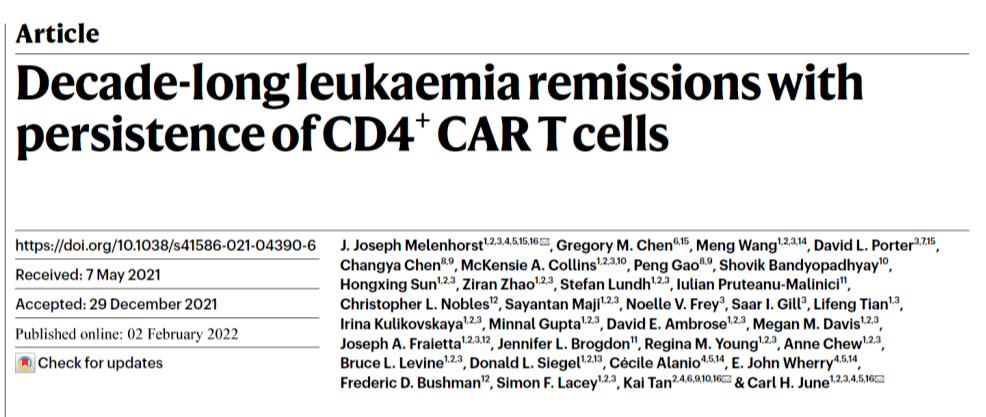 The effects of CAR-T therapy can last for more than 10 years
In 2010, Bill Ludwig and Doug Olson, who suffered from chronic lymphocytic leukemia (CLL), became the first participants in clinical research on CAR-T therapy after a large number of treatments failed to respond. Fortunately, after receiving CAR-T therapy, the condition of both patients was effectively controlled within a year!
Recently, the relevant researchers published a study in the journal Nature, the two chronic lymphocytic leukemia patients for a long time follow-up observation, found that the introduction of synthetic CAR structure of T cells, can survive more than 10 years without tumors in the peripheral blood of leukemia patients are still detected, and these T cells still maintain an active state of anti-cancer at any time.
That is to say, the CAR-T cells that were injected into the patient's body at one time more than a decade ago have been active in the patient's body, monitoring the cancer cells that are "ready to move" all over the body at all times, as long as the cancer cells appear, they will face these tried and tested anti-cancer fighters with precision and pain.
It is precisely because a certain number of active CAR-T cells have been retained in the body that these lucky leukemia patients have been able to achieve a healthy tumor-free survival for more than 10 years or even a lifetime. In this sense, the greatness of CAR-T cells is that it is an anti-cancer drug that has a certain possibility of "never failing" in the true sense.
In 2021, there was also a "blowout" in CAR-T therapy, with three innovative CAR-T therapies approved for marketing by the FDA in just one year (Abcma, the world's first BCMA CAR-T therapy for adult patients with relapsed and refractory multiple myeloma, Apacma, Tecartus, the first CAR-T cell therapy for adults with relapsed or refractory B-cell precursor acute lymphoblastic leukemia, and Breyanzi, a CAR-T therapy for relapsed or refractory large B-cell lymphoma), and two CAR-T therapies expanded the indications.
The emergence of CAR-T therapy is a milestone event in the history of hematologic tumor treatment, and researchers are currently developing the application of CAR-T therapy in solid tumors, and in the future, it is hoped that more patients will benefit from CAR-T therapy.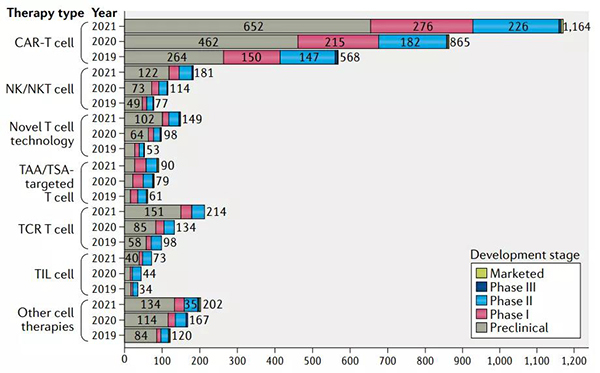 Global oncology treatment R&D pipeline